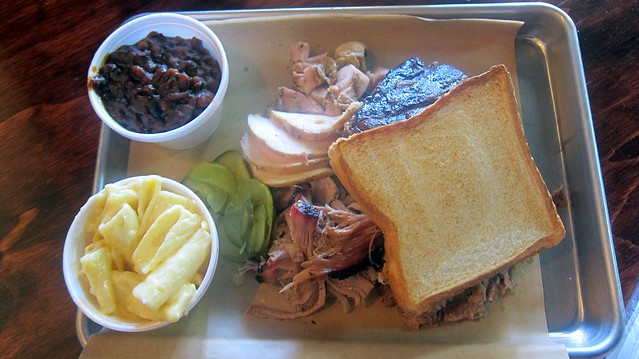 Atlanta's barbecue fanatics have almost unanimously crowned Grand Champion BBQ the current king of the smoker; but, like many of the barbecue joints around the metro area, this youthful Roswell restaurant seems to offer an incomplete picture of the ideal.
When GC BBQ opened in mid-August, word spread fast that this was the new centerpiece of the Atlanta barbecue scene … though it's worth mentioning ATL's scene is fairly thin in top-end quality despite a large community.  But the best of the mediocre can still be awesome, so I set out a few weeks back with high hopes in tow in order to meet up with one of my new found friends in food.
The Frenchman and The American
GC was born out of Robert Owens' indoctrination into barbecue culture in the ashes of the Sam & Dave's split.  Owens was brought into the fold by David Roberts, the man who went on to helm Community Q, and ended up in Sam Huff's corner working at BBQ-1 in Marietta during the mid-00's.  After about five years at BBQ-1, Owens called up his old pal, French expat Greg Vivier and the two subsequently set out on a journey to open their own BBQ pit.
They landed, somewhat unusually if you ask me, in a large strip center in the Atlanta suburb of Roswell.  In the shadow of a Publix supermarket, Owen's and Vivier's co-owned Grand Champion BBQ opened in mid-August in one of Atlanta's surefire signs of urban sprawl.
A Barbecue Spot by Any Other Name
This faceless and personality starved exterior was brought to life on the inside, so whatever apprehensions I had due to GC BBQs Shallowford address quickly subsided once I walked in.  It's an open space, decked out with the woody color scheme that every BBQ restaurant relies upon.  BBQ joints aren't the most architecturally inspired establishments, but this muted palette is comforting nonetheless.  And given these self-imposed restraints, GC does look the part and Owens and Vivier can smile about that.
A sweeping kitchen replete with all sorts of barbecuing goodies takes up a good bit of GC's space.  The mounted menu above the kitchen serves as your notice that orders are placed at the register and then run out to you when ready.  It's a simply and easily executed proposition that should lend itself well to days when Champion is crowded.  At the very least, the near to the front butcher block offers patrons a great chance to watch some food porn come to life.
The rest of the space quickly winds around the corner from the kitchen and offers you a drink station and plenty of painted wood booths before the space gives way to a few free standing tables in the back.  It's a lot yellow, a little bit red, and accented by a slew of doohickeys that your kids will enjoy.
A Big Plate of Smoked Meat
I was not alone for my trip to GC.  In fact, GC was chosen simply as the meeting place for an introduction to the man who shall henceforth be called "SE."  Yeah, I'm full of dorky nicknames for my compatriots – so apologies in that department … perhaps he'll come up with a better nickname for me to use.  However, for those of you Sherlock's wondering just who these people are, here's the short of the long on SE:  He probably has one of the most widespread voices in food, though I doubt most people would name him to a top 10 list of Atlanta's most identifiable food writers.  He just kind of flies under the radar that way.
GC's menu itself isn't redefining de facto barbecue.  A handful of meat types are supplemented with classic sides; it's short and simple and should not invoke much excitement simply at a glance.  The one exception might just be their much discussed short rib; sadly, it's now only available on Fridays and word around the campfire is that it may soon disappear entirely.
As is, the menu is essentially priced by section, so there's no nickel and diming going on.  Sides are $2, save for the MnC and Brunswick stew which come in at $3.  Then GC's sandwiches are all $5.50 regardless of filling.  People are quick to call GC expensive and I'm not exactly sure why.  It's certainly inline with, and at times much less expensive than, some of the other high flyers of Atlanta's barbecue.  The portions seem on the large size, further dispelling any notion of expense.  Sure you can find less expensive barbecue, but GC is obviously trying to offer a higher quality product than most.  Also, it appears that prices have fluctuated several times since August … so don't overly commit to what I've just said.
Anyway, having two mouths to feed, both belonging to gents who happen to be menu explorers, meant that GC's sample platter was on order.  Designed for two, but perhaps worthy enough for three, the tin tray with butchers paper arrived with pulled pork, sliced brisket, chicken, smoked sausage, two mini-slabs of baby back ribs, our sides of beans and mac, and a big piece of toast.  It ran $22 (instead of $21 because of the mac add) and certainly felt like a value.
Consumption came as the backdrop to our conversation, so despite our mutual interest in dissecting food, SE and I spent little time talking about the specifics of the meal and instead stretched our visit to a near 2-hour chat of all sorts of good stuff.
The plate in front of me at times showed worthy of the accolades (AJC's readers and critics both said Grand Champion serves the best ribs in town).  But at other times, it fell flat … and with a dramatic thud.  The ribs were most certainly the star of the show and worthy of notice.  Though these won't win any awards in the heart of Barbecue Country, the ribs split at just the most casual of cuts from our basic, child friendly knives.  The welcomed sight of pink meat meant Arnold met with a justifiable end and this single sample of GC's baby back ribs put them in line with most any competently executed ribs of that type.  The smoked hickory flavors permeated my mouth during the moist bites, leaving me high in anticipation for the remainder of our meat piles.  I searched on through a Sahara of barbecue.
Save for the pulled apart pork, every other meat on the plate was dry … and not just sort of dry … but the type of dry that you think will get fixed if you top your bite off with a swill of your drink.  That never happens, and it didn't happen here either as my Arnold Palmer did little to help.  The brisket was the most offensive of those as the meat crumbled under my fork … a sure sign that it had been cooked past its prime.  I tried to remedy my bites through the use of the tableside bottles of sauce, but any 'cue master should know that a sauce will only help put a piece of meat over the top – it won't save it from the pits of mediocrity.
The triple cheese mac, while fairly uncreative, served to satisfy with gooeyness and thick tubes of macaroni.  Still, even if made better, it alone won't make or break this restaurant's reputation (as no mac and cheese should), even if we got it on an off day.
Grand Champion BBQ First Impressions
The circumstances of my visit to Grand Champion BBQ were a compilation of events that led to me getting together with a person I had yet to meet in the flesh.  Whether it's a date, an opportunity to meet another gourmand, or one of the many meals I've enjoyed thanks to the great company offered by my friends and family, food has long served as my gateway drug.  Communal meals serve as the means to the end as food gives both life and a shared experience that all involved can talk about, no matter their intellect, knowledge, or anything else for that matter.
The risks that come from shedding my well-worn figurative cloak have unfortunately come to fruition; however, they have been a small detractor from the rewards of meeting those that I've added to my social circle.  This little bit of information actually serves a real point here.  While the ribs definitely inspired a smile, little of my single serving visit to Grand Champion BBQ stood worthy of the ambitious name.  But it wasn't horrible, not by a long shot.  So it allowed me the opportunity to enjoy some really great company.  Though it didn't interject itself into our conversation, the food ad GCBBQ did enough to sustain.  Rushing to get back? Nope.  In the area and need some cue? Sure!
Now to see how it holds up to repeat drop ins.
Atlanta Foodies on GC BBQ
Grand Champion BBQ

Address & Information

4401 Shallowford Rd

,

Roswell

,

GA

30075

·

view map

Cuisine:

Barbecue

,

Southern food

· Price:

$