I hate bacon.  I don't really mean bacon itself, rather … I hate what has become of bacon.  It's everywhere and it's Benton's fault!  Still, when I found this recipe for bacon strip pancakes, I knew I had to make them!  So while y'all are reading this, I'll be making this!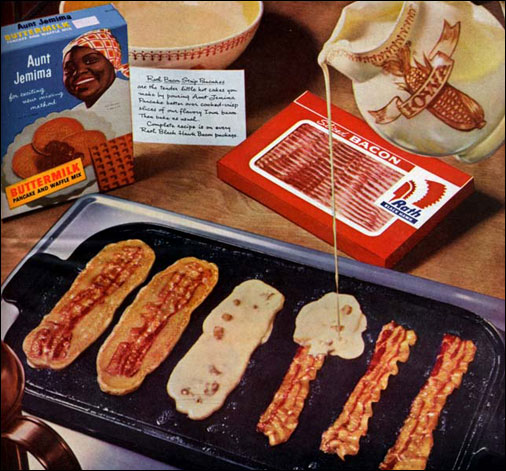 To be honest, had this been a recipe for regularly shaped pancakes with crumbled bacon, I'd have passed.  Apparently, this healthy little breakfast destructor was posted in a 1962 magazine ad.  It read as follows:
"Just about the best breakfast that ever greeted a hungry family! And it's as easy as this: Shake up Aunt Jemima batter according to package directions. Place cooked bacon strips on the griddle and pour batter over each strip. Bake 'em golden brown on both sides. Couldn't be easier – couldn't taste better! How about Aunt Jemima Bacon Strip Pancakes at your house tomorrow!"
Anyway, the recipe is after the jump!
Ingredients:
(4 servings)
12 slices of bacon
2 cups prepared pancake batter (from a mix or from scratch)
softened butter
maple syrup
Preparation:
According to Mr. Breakfast ~
Griddle on medium-high
Fry the bacon until crisp then remove and place on paper towel.
Wipe the griddle with paper towels while leaving just a thin layer of bacon grease.
Put the bacon back on with at least two inches of space in between
Slowly pour the batter over each slice
Flip when browned and remove once the obverse is browned.
[via Mr. Breakfast]