For me, SAAM at The Bazaar, the intimately tranquil private chef's tasting room hidden within The SLS Hotel Beverly Hills, has long been an "I want to go to there" restaurant.  It's one of several unique dining experiences offered inside the upscale Los Angeles hotel, which essentially serves as the West Coast fortress of chef José Andrés.
Andrés, who is the most well known proponent of molecular cooking in the US, has continually taunted me with his culinary experiments for long enough.  And so it came to be that during my West Coast food philandering, I was willing and able to explore this science meets food eating mashup.  It was an experience for the ages.
The 40-seat SAAM room is part of a complex juggernaut of an operation.  Under The Bazaar umbrella, there are multiple kitchens, separate dining halls (SAAM, The Bazzar, Rojo y Blanca), a dedicated bar (Bar Centro), a dessert shop (Patisserie), and the quacked out gift shop for The SLS itself (Regalo).
Though these playful concepts essentially share a relatively wall free space, and while there are menu items that thread this patchwork restaurant together, the idea behind this culinary cornucopia is that there are several unique experiences found within.
The General 411
So SAAM (pronounced Sam), is an avante-garde food speakeasy.  It's a distinctly obfuscated room hidden around back of Bar Centro's main service station.  While the majority of this cavernous space is both open and full of cooky objet d'art, SAAM is a calming enclosure with bookshelf lined walls, plush seats, and plenty of leg room.
Bazaar hit the ground in late 2008 and SAAM same followed inside of the next year.  Since then, SAAM's menu has essentially hovered around $170 per head after tax and included tip.  By extension, the base price is usually $120.  For that modicum of Benjamin's finest, guest are treated to a 22-course collective of samples comprised of dishes borrowed The Bazaar's general menu, duplicated from Andres' DC based Minibar, and invented exclusively for SAAM patrons.  Mind you, drinking some of the creative cocktails will put a rocket up that price's tush real quick.
While Andrés may be the Emperor of Bazaar, the current master of the domain is the lauded Josh Whigham, who in 2010, replaced some guy as the chef d' cuisine.  The the menu at SAAM morphs every few months; though it includes a handful of staples that I doubt will vanish anytime in the foreseeable future.  Intermingled with these riffs on the classic cheesesteak and the Vietnamese bánh mì, Whigham and Andrés and the rest of the team continually produce a menu where fans of funk are privy to rampant uses of spherification, where sous-vide is supreme, and where the imagination tweaks the familiar.
An Experience To Be Shared
As with my meal at Urasawa, a lone diner can certainly have a fabulous meal.  However, something about SAAM necessitates good company.  I was fortunate to have Frosty and Ms. Alabama in tow, and we managed to wrangle up the Costa Rican Cutie, my San Diegan pal.  The four of us were in for a delight and the service was a big reason why.
If you want buttoned up and stoic interactions then you might miss the joy of SAAM.  The team of people responsible for your meal are dedicated to the SAAM experience.  Perhaps they'll get pulled out to help the bigger operation if need be, but the general idea is that people that work at SAAM don't work at The Bazaar.
While the show is run by people deemed Captains, our single meal was met with this light hearted refinement absent of any hint of arrogance.  Napkins were replaced when one of us left for the restroom, dishes were swiped using an economy of motion, and there was certainly the suggestion that this was a special place to eat.  Perhaps others will come away with a different experience, but we found even the most mundane of interactions with SAAM's staff to be cheerful and filled with pleasant banter.
The Meal
Once we were seated and given the unobtrusive background information, service began with a tasty apéritif and ended in a swirl of desserts.  Every sense important to a fine meal was called upon and the series of small bites took our party on a roller coaster ride.
We were given the choice of seeing the menu beforehand or simply going at it blind.  We elected to take things as they came, so with each round – we got a quick hit of information about what we were about to chow on.  Thank goodness for this list, as every piece of art plate bitch slapped every sense from sight to smell to gobbling.  Subtleties mixed with pronounced flavors, ingredients were splayed on plates by the most skillful of hands, and dishes were slamming with color combinations and presentation techniques that made my eyes smile.
The Apéritif: The Golden Boy (Welcome Cocktail)
Amontillado Sherry, cava, orange bitters, gold dust, lemon
A bubbling infusion herbal essence.  Edgar Allen Poe would have loved this drink.  It was rich and full bodied, with a touch of acid that provided depth.  It went down quick and easy, though the use of gold dust made me wonder if I should have brought a gold pan with me.
Lotus Root Chips
star anise, Maldon salt
An interesting juxtaposition to the cocktail.  The star anise elicited hints of a nice Chinese dish, while the Maldon salt made my tongue perk ever so slightly.
Tuna Hand Roll
yellowfin tuna, avocado mousse, nori puree, fresh wasabi
This was the first true sign of the playful science we were in for.  With the back drop of a nori wrapped hand roll for inspiration, this was like a spring roll meats hand roll hullabaloo – only it was wonderful.  The dab of wasabi started the bite off with a kick, whereas a seaweed purée and avocado mouse took a familiar tuna roll and reconstructed its very nature.  Unlike a traditional hand roll, this had a pronounced crunch wrapped around a burst of creaminess.
Oyster and Jamón
West Coast oyster, jamón cream, fresh lime, air-bread crouton, cilantro blossom
You had me at oyster.  Here, have another look, it's worth it.  This may have been one of the most texturally rich bites of the entire evening.  The flavors were distinct, but somehow accented one and other.  The air bread crouton got the crunch, the oyster was soft and seaworthy and the jamón cream wrapped my tongue so delicately.  And that cilantro blossom … I'm kind of pissed to be writing about this meal again … I just want to eat it.
Black Olive Ferran Adrià
Kalamata olive puree, squid ink
And so begins our exposure to one of Ferran Adrià's favorite techniques.  Distilled through his disciple and put in Whigham's capable hands, this liquid olive was made by mixing sodium alginate with olive juice which had been placed into a calcium chloride tube.  It gives the "olive" it's familiar shape but instead replaces the bite with a puncture.  It's quite simply a liquid olive with a membrane.  It's kind of insane!
Jose's Combination
Jamón Iberico de bellota, Rio Frio Caviar
This sturgeon caviar mixed with perhaps the worlds most desirable ham almost got me in trouble.  I tried desperately to steal my neighbors … it didn't work!  The pork had that smooth, welcomed texture that really showed off its "oils".  And though these two subtly salty ingredients seemed destine to get lost in one and other, each drove the bite forward in both texture and flavor.
Patatas Bravas
potato soufflé, brava sauce, garlic aioli, chili piquin
This was the first of the "why you gotta play me like this Jose?" dishes.  This was a direct play on something very familiar that touched its inspiration in all the right ways.  Described as a potato soufflé, this was a Spanish French fry.  The garlic gave it a punch and the chili powder gave it a pinch of heat.  Bad ass!
Buffalo Chicken Wing
Frank's Red Hot, celery, bleu cheese mousse
If you read me with regularity, you know one of my absolute favorites is the chicken wing.  I freaking love to tear into the meat, get that crunch, and clean those bones like a T-Rex in a cow pasture.  But not here.  Nope, this was one of the most pleasantly jarring bites I've ever had.  When you hear of a boneless chicken wing – it's not a chicken wing but just a different cut.  This, was quite literally, a boneless chicken wing.  The meat is cooked sous-vide style (in a vacuum sealed pouch deposited in a low temperature water bath).  When done just right (as it was here, the meat becomes so soft that you can yank the bone out without destroying the appearance.  What made this so delightful is that it had the exact flavors of a traditional buffalo wing, but the quality of the bird combined with this fabulous reconstitutions of the classic companions made this a complete reframe of something so tried and true.  Super bad ass!
Not Your Everyday Caprese Salad
cherry tomatoes, basil pesto, Pedro Ximenz reduction, Buffalo mozzarella spheres, air-bread croutons
Those little spheres of magic show up again, along with the air crouton.  Instead of sliced tomato, SAAM gave us a skinless cherry tomatoes.  The Buffalo mozzarella comes in spheres and perhaps the true treat to this was the PX reduction.  PX is a really sweet dessert wine, so to see the balsamic vinaigrette replaced by a sweet little punch was a welcomed play.  In reality, balsamic doesn't actually go on Caprese.  Like the Buffalo wing, this dish found its voice in its form, unusual as it may have been.
Crispy Nigiri
Shima Aji sashimi, puffed sushi rice, celery root puree, pickled turnip
This may have been the dish that impressed me the least.  Though it seemed to serve most as a palate cleanser, I wasn't much drawn to this beyond any other piece of nicely sourced shima aji.  The puffed rice was a nice touch, but nothing made me thing of halcyon days.
Uni & Eel
Bomba rice, eel stock, fresh uni, seared strawberries, black garlic, fresh wasabi
Notice how there's no picture here?  There's a reason … in my bell in 15 seconds flat.  It wasn't that it was the greatest dish ever, but it was so strange to see uni and strawberries … it's one of those combinations that people wouldn't think to love – and this was fun as heck to eat.
Chiparones
seared baby squid, chicken jus, artichoke puree
A quick bite, it was nicely done, even if it didn't tug at every thing I had ever hoped for in a seared baby squid dish.  It found it's way into my bell described soon after as "a very nice bite."
Bánh mì
brioche bun, Wagyu beef, tofu "sponge," pickled carrots & daikon radish, cilantro, mint, mayonnaise
This Bánh mì was a meal defining experience.  The super crispy (perhaps fried) brioche bun was buttery and warm, the Wagyu beef took an common occurrence and put some serious juice behind it, the vegetables crunched perfectly where as the cilantro and jalapeño got me all sort of jazzed.  But the true winner here was the tofu sponge.  It was texturally just what it sounds like, but where a sponge as you and I know it sounds like the last thing you'd want in your mouth – trust me when I say it's worth a bite by itself.
Carrot "Gnocchi"
carrot puree, coconut milk, cilantro blossoms
Surprisingly familiar, the carrot gnocchi were a fun exploration of an unnatural disposition.  Just because it doesn't exist in nature doesn't mean it can't exist in my belly.
Geoduck
geoduck clam sashimi, oyster & tarragon emulsion, breakfast radishes, arugula
A sea inspired construction driven most by the tarragon sauce on the bottom.  It had that sea water tone I love in my shellfish, but it was truly great eye candy as well.
Braised Kurobuta Pork Belly
potato espuma, baby pickled root vegetables
Another beautiful plate where one of the nicest pieces of sous-vide pork belly was buttressed by a potato foam and some little teeny tiny veggies.  A nice bite as you can go wrong with potatoes and pork belly.
Philly Cheesesteak
Fiscalini White Cheddar Cheese espuma, air-bread, seared Wagyu beef, caramelized onion puree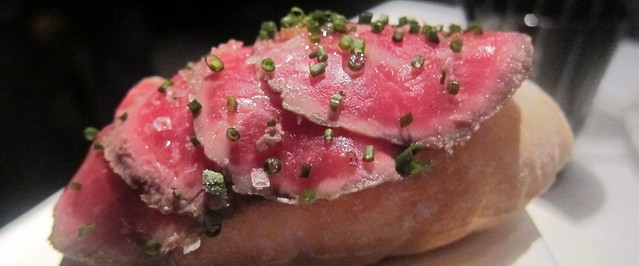 There's nothing like sitting down to a $125 dinner only to eat something destined to create a complete and total mess.  It's like a puff pastry meets Philly steak and the reward for your bravery is a cheesesteak like no other.  It's intense, it's messy and is damn good.  Steal your neighbors.
Japanese Baby Peaches
Burrata cheese, brioche croutons, praline, za'atar
As the penultimate act to the meals denouement, the great peaches were a total treat to the eye and a nice way to transition the meal into it's final stage.  Bites here were clean and anytime you have a green peach – you've got my attention.
Dragon's Breath Popcorn
compressed popcorn, sugar, liquid nitrogen
[youtube=http://www.youtube.com/watch?v=kl0sqKQtC2w]
It came out looking like this and was fun to eat.  Small hints of chili powder and cinnamon seeped in.  You can watch it getting made too.
SAAM-buca
compressed strawberries, Sambyca galet, Sambyca sabayon, brick-dough pastry, fennel fawns, lemon-peel sorbet
Beautiful and delicious, fruit forward yet not too sweet.
Chocolate Rock
chocolate mousse, liquid nitrogen, lime-infused Greek yogurt, cilantro blossoms
Sexy Little Sweets
various confections from our Patisserie
SAAM: A First Impression
This was edible art.  Aesthetics aside though, the dishes at SAAM went from simple to extravagant, and most of the time, did so with great success.  The breaking down and reassembling of some very popular items led to some of the most fun bites I've ever had.  Whether or not they are as good as their traditional counterparts isn't a comparison I even care to indulge. These are different executions and they stand on their own for just that reason.
Who knows how rapidly the law of diminishing results would apply here.  Repeat visits may turn up a few disappointments, but I doubt it … and I seriously doubt they'd be enough to squash the overall pleasure a meal like this can produce.  As for The Bazaar, with it's open kitchens and funky Rojo room, the experience  is sure to be different, so it's impossible to say which is a better value.  But based on my one experience, I think SAAM is ridiculously underpriced.
The attitude you approach SAAM with will have a lot to do with your takeaway.  Not every bite blew me out of the water, but a significant number of them did. And most importantly, every bite made you think.  Thanks to the company, the environment, and the food … it's a meal I'll always remember inside an out.
[Note: Check out some videos from the visit]
SAAM at The Bazaar Restaurant Address & Information
465 S. La Cienega, Los Angeles, CA 90048 // 310.246.5545 // website // sample menu // tw // fb // 4sq